Visit the Glénan archipelago
Enjoy summer to the fullest by spending the day in Les Glénan ! This enchanting archipelago can be reached from Concarneau from April to September, don't miss it during your stay at Camping Les Prés Verts aux 4 Sardines!
An archipelago of
postcard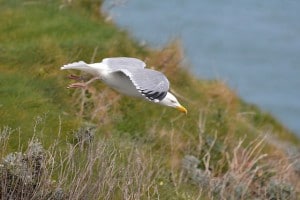 The Glénan are made up of seven islets around an inland sea with crystal clear waters. Only the island of Saint-Nicolas is accessible to visitors. The other islands are occupied by the nautical centre or are bird sanctuaries. There are even private islands that are off limits!
The Glénan archipelago is nicknamed the Breton Caribbean because of its transparent waters and white sand beaches. Nature is preserved and protected there. There is a unique flower in the world, the Glénan Narcissus, as well as other rare varieties such as the small borage or the blue thistle. The archipelago is also a paradise for seabirds: gulls, ring-necked plovers, oystercatchers... welcome you from the rocks. Nature is king on the Glénan: don't forget to take your rubbish back to the mainland. Bicycles and cars are of course forbidden on the archipelago!
What to do at
Glénan

?

On land or at sea, the Glénan offer many activities.

Why not take a guided tour of Saint-Nicolas Island? With him, you will discover the rich biodiversity of the island. A special landing allows you to walk around Saint-Nicolas with a stroller or a wheelchair and to reach its summit.

The practice of Scuba diving is one of the most popular activities in the Glénan, thanks to the International Diving Centre. You can sign up for a course with an instructor.

Glide on the transparent waters of the Glénan aboard a kayak or a sailboat. You can learn to sail at the famous Glénans Sailing School, a real reference.

Just looking for a bit of relaxation? The white sandy beaches are there for that!
Plan a day at the Glénan during your stay at Les Prés Verts aux 4 Sardines!
A visit to the Glénan archipelago is an enchanted interlude! Take advantage of it quickly!