The 2019 edition of the Festival des Filets Bleus is fast approaching
This emblematic festival returns for a 2019 edition that promises to be
rich in concerts and festivities
Located in Concarneau, the Festival des Filets Bleus is a must-see event of the summer and the Camping des Prés Verts allows you to live this moment as close as possible to the event!
A historic festival for
Concarneau

and the Brittany region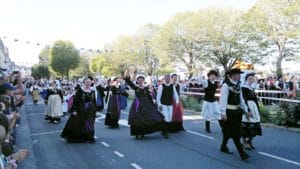 The next Festival des Filets Bleus will take place in Concarneau from Wednesday 14th to Sunday 18th August. Historically, it is the oldest festival in Brittany, and even in France, which is why it is so important and recognized by festival-goers.
Originally, this event was intended to be a charity festival after a particularly difficult year in 1904 for the inhabitants of Concarneau, who then lived exclusively from sardine fishing. The idea, which was proposed by Mr Billette de Villeroche, has particularly attracted many Concarnois, but also Parisian tourists who had become attached to the city during their various holidays.
The initiative was launched in 1905, including an auction of masterpieces, whose goal was to raise funds for families in need. As time went on, the festival offered many new activities, including concerts in partnership with recognized artists wishing to participate in this event, which has attracted over 70,000 festival-goers in recent years.
Manau, Capercaillie, Tri Yann will be present in Concarneau for
the Festival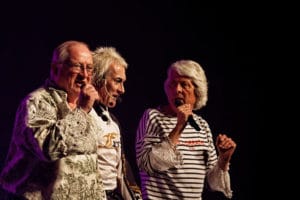 The Blue Nets Festival offers this year a very attractive program, with many talented artists who will offer free concerts to festival-goers. You can attend Tri Yann's concert at 10:30 p.m. on Wednesday, August 14, Manau's at 9 p.m. on Friday, August 16, and Capercaillie's at the same time on Saturday, August 17.
Many other artists are planned, and the whole program of the Festival des Filets Bleus is available on its website.
In addition to the concerts that will take place every day, the Festival also offers several activities including discovery workshops, initiation to traditional music and painting exhibitions.
The Camping des Prés Verts welcomes you during the
Festival des Filets Bleus

!

You want to enjoy this new edition, in the heart of the festival atmosphere in Concarneau? Then book your pitch at Camping les Prés Verts to be present from August 14th to 18th !