Pool & Basin

- our nautical activities for the general public
What better way to cool off during the summer season than by taking a dip in a swimming pool or pond at the perfect temperature? Young and old love to swim, that's why the Camping des Prés Verts aux 4 Sardines has a swimming pool and a small pool at the disposal of its customers!
A

pool

intended for adults
For the adults, a large swimming pool is installed in the heart of the Camping des Prés Verts aux 4 Sardines. Its pool is deep enough for swimming, while allowing you to have fun in safety during your swims. Its length is also sufficient to accommodate several adults in the best conditions, without disturbing the swimming of each one.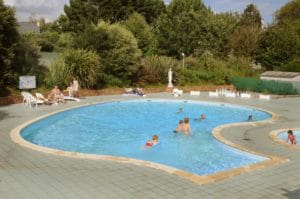 The pool is treated very regularly to keep it as clean as possible. It is an activity that is accessible from June to August, with ideal weather.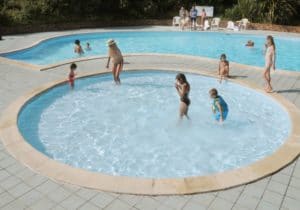 A

small pool

nearby for children
Children are also invited to cool off in a pool specifically dedicated to them. As for the adults, the pool has been designed to accommodate several children in optimal safety conditions. Parents do not lose sight of their children, as the pool is located in the immediate vicinity of the pool, which allows them to maintain eye contact while cooling off.
The temperature of the children's pool is set at 26 degrees. The pool is accessible at the same times and periods as the swimming pool, from June to the end of August.